Supercell just put out two TV Royale episodes on their channel that give a brief overview of some features coming in the update.
First episode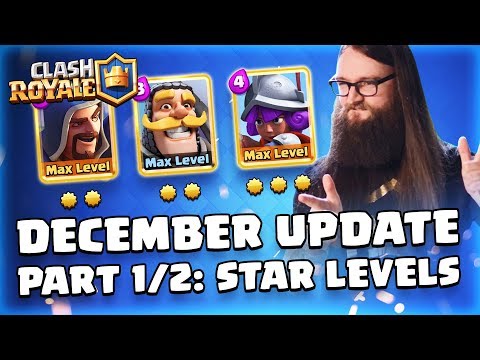 Second episode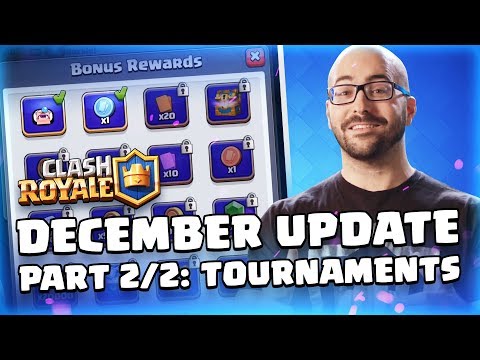 Features Coming
Star Levels
Unlockable at King Tower 13. There are up to 3 levels per card, and they are earned from any upgrades or donations you do. They do not have any statistical differences, it's just cosmetics, like deploy effects or different appearances.
Name Change
You can purchase additional name changes with gems, just like in CoC.
Emotes
Emotes can be purchased from the Shop with gems.
Trading
Both players now require a trade token to complete a trade. To offset this, drop rates have been more than doubled.
Misc QoL Changes
Speed up your request timers
Send friend request to 2v2 partner
Improved clan search (wars, donations, friends in clan)
Gems in War Bounty
New LTM: Heist
To commemorate the global launch of Brawl Stars. Destroy the other player's vault. No towers. Draft style. 1v1. 2 Brawl Stars characters (Shelly and Bo) exclusively added. One player drafts the BS characters. Will be available on Dec. 13
New Chest
Mega Lightning Chest. This chest replaces the Super Magical Chest. It will have the same number of cards as the SMC but will have 8 strikes.
Private TOURNAMENT REVAMP?!
New customizations for private tournaments. You can set size, duration, game mode, and level caps as per your discretion (though some modes are capped at tournament standard, like draft or mirror)
NEW GLOBAL TOURNAMENTS
Supercell-hosted tournaments that anyone in the game (provided they meet the minimum crown level) can participate in. Like Challenges, it's 3 strikes, you're out. Variety of game modes and tower caps. Free rewards and bonus rewards that cost 100 gems (though they are worth more than Grand Challenge rewards if you get enough wins, plus, gems are part of free rewards). Kind of like PUBG Mobile's Battle Pass, which has a free and elite reward tier
"Continue" Special Event Challenges
Re-enter where you left off! You will have the same amount of wins, but losses are reset. It's normal re-entry cost. Not available in competitive challenges (Classic, Grand, CRL 20-win)
How big is this update?
Huge
Full Release Notes
Optional Update: Fixes & Improvements