Clash with Ash interviewed the newest CM for Clash Royale, Drew, on YouTube, discussing some of the update and the issues some in the community had with it. It's a 25 minute video but the actual update stuff starts about 5 minutes in (the first part is getting to know Drew and how to get Reddit posts noticed. I'm including a paraphrased transcript here if you don't have the time to watch the whole thing.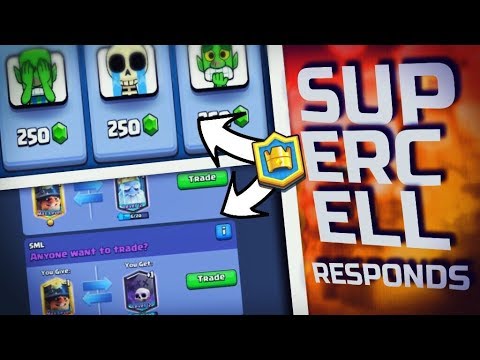 CWA: Will the emote packs (the 4 emotes for $3 USD) return?
Drew: Yes, but in a different way. Due to the fact that emotes can be purchased individually from the Shop, it is possible a pack may show up in the shop and you already have 1 or 2 of the emotes from it. So they might have "random' emote packs sometime in the future, but the team need to iron it out first
CWA: Will the emotes in the Shop be cheaper than 250 gems?
Drew: For the foreseeable future, no. We injected more gems into the economy, including adding them in Clan War bounties.
CWA: What's the point of changing the Global Tournament card and tower level caps and floors? I think as many people (especially F2P) as possible should be able to participate on an even playing field
Drew: Initially, we're testing interest and spectating when we change the tower and card level floors and caps. We're continually gonna be varying other things, such as the game mode and rewards.
CWA: How do you feel about the rewards and costs of the Bonus rewards?
Drew: That is also being varied. The community's feedback is key to this, as well tweak what the rewards are along with the cost. We want people who get for example "only" 10 wins to feel like they're getting a great deal
CWA: How has the trade token change been?
Drew: We feel that we should've communicated better about the change when we first implemented it. We put in a short-term solution just today by reducing the duration that trades can stay up from 14 days to 36 hours to cut down on the clutter. We'll see what happens over the next few weeks and see if any further improvements can be made
CWA: Why change it at all?
Drew: The most common feedback we received after first implementing trade tokens was trade sniping. Not only were people in the clan sniping trades, but some people would even hop to other clans and snipe their trades. To counteract that specifically, we added the cooldown in accepting trades when joining a clan. There were various other abuseable parts that warranted the change. Most of all, we felt that Clanmates were not communicating or negotiating enough, that people were throwing out trades and hoping someone would accept, and a lot of those trades had "garbage" cards like Heal or something.
CWA: Any potential changes being discussed?
Drew: We talked about a trade tab, and while that would solve the clutter, it wouldn't fix having a lot of trades just sitting around. We saw one idea on Reddit that instead of having one card for another card, it would show one card for like 5 other cards and the person who is considering the trade could pick one of those cards to complete the trade and we liked that idea.
No hints on the new card (wait until tomorrow) or the next update (2019 will not just be QoL improvements)
CR Stats PB: 4609 KT: 12. Card lvls: Mostly 11 with some lvl 10 Rares and lvl 12 Commons 91/91 cards unlocked. IGN: Hardcase Royale.
BS Stats: 16 Brawlers. IGN: ΜαΣτεπςαλ
Please read the
Forum Rules
Join the CommunityRoyale Discord Server here:
https://discord.gg/3PdFBp3